Vandalism Photos
October 5, 2009
I thought some of our friends outside Victoria might like to see some pictures of the damage done by vandalism to our church property last Friday evening, Oct 2. (click on photos to enlarge)
First is the worst of the damage – our  completely destroyed storage shed: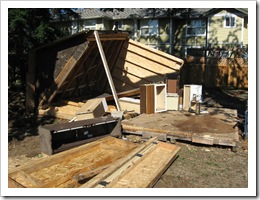 Very little of any value was damaged in the contents of the shed. Most of what we keep in the shed is probably stuff we should have trashed long ago! (Your shed is probably the same!) Our riding lawnmower was unscathed and the push mower handle was bent. One of our men had a table saw stored in the shed (in our last work project) – it didn't survive: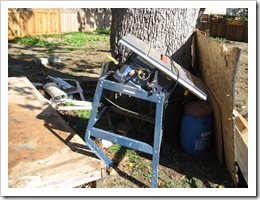 The damage was done by a stolen small excavator. The vandal spent some time playing in our back yard: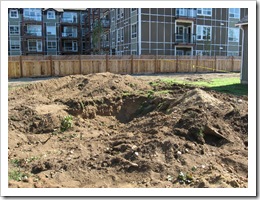 The next two photos show very minor damage to our church building, first to the railing and posts of a back exit staircase (one we want to replace anyway):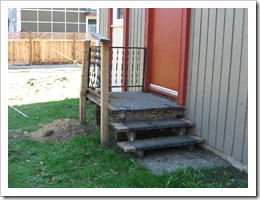 And this is on the front corner, high up, where the vandal appeared to bang the bucket of the excavator against the exterior wall. Fortunately no other damage to the main church building: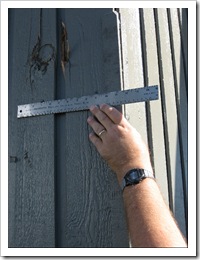 and, last, the shed from a bit further back: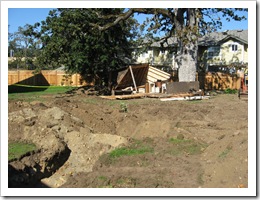 The vandal also destroyed the chain link fence between us and an adjoining school yard. He eventually broke the hydraulics on the excavator and at this point someone in the neighbourhood noticed something amiss and called the police.
The damage could have been much worse. We thank the Lord for His protection in this incident. No one was hurt and really, the damage was very minor.
And in the meantime, we had great services this weekend with significant spiritual victories happening in lives. That is the main thing in all of these distresses. And Thanksgiving is next Monday! So Praise the Lord!
Comments