Upcoming Church History block class with Duncan Johnson
June 23, 2014
As our regular attenders know, we are planning to host a block class from Foundation Baptist College with Duncan Johnson – July 7-12, evenings on weeknights from 7pm with an all day Saturday session beginning at 8:00 AM.
A continental breakfast will be provided for Saturday AM, bring your own lunch for the noon meal.
The textbook for the class is
Turning Points: Decisive Moments in the History of Christianity
Mark Noll
Here is a link to purchase the Kindle edition (available at Amazon.com, you must set your Kindle to be able to get Amazon.com titles) and here is a link to purchase the paperback edition.
You do not need a Kindle to order a Kindle book. You can download (free) a reader for a PC or a Mac.
Cecil Carrol Funeral
March 3, 2013
Our dear brother and friend passed away this morning at 11:10 am, just as we were concluding our morning service. He passed into the Lord's presence peacefully after having a struggle with a last illness these last couple of weeks.
The funeral will be at McCall's on Friday, March 8 at 1:00 pm. (1400 Vancouver Street, Victoria, BC V8V 3W3)
Coincidentally, we learned this afternoon that former member Jack Baker passed away today as well. The Baker's were living in Ontario.
Pastor Don
UPDATE: Audio for the service available here.
Sermons working–technical difficulties over!
February 27, 2013
For anyone keeping track, and as a test to see if our 'blogging' is still working, we have overcome the technical difficulties that prevented us from posting new sermons. The way we fixed it was simply moving our site to a new hosting provider. Hopefully our site should respond a little faster now as well.
I just posted today (Feb 27, 2013) our message from October 17, 2012 on Isaiah 21. You can see we have a few months of sermons to catch up on. As I have time, I'll be adding the lot to the mix. Those who follow us may feel overwhelmed, but I am anxious to get caught up, especially to get up some recent messages by our good friend Dr. Fred Moritz.
Stay tuned! It is great to have everything working again.
Pastor Don
Northwest Regional FBF Conference
March 20, 2011
Our annual conference last week was at Lincoln Park Baptist Church in Wenatchee, WA.
Our keynote speaker was Dr. Fred Moritz, my good friend and former mission director. He is now 'emeritus' with the mission and on the faculty of Maranatha Baptist Seminary.
We had a great week … all in just three days! Lots of preaching and good fellowship. This post is to provide a convenient link to the sermons. Clicking the link will take you to a filtered view of 'Our Sermons' with just the FBF sermons in view.
~~~
Pastor Don
Funeral for John Paul Jones
March 9, 2011
The funeral will be held in the Port Renfrew School Gym on Friday, March 11, 2010 at 10:00 AM. We hope as many of our folks from the church as possible can attend, we'd like to have a good testimony to the family.
If a ride is needed, please call by 3 pm Thursday so that we can coordinate cars and drivers.
We will miss JP and his visits to our church and his crazy personality, but we are confident of his abiding faith in Christ and look forward to the day that we will meet him once again.
changes at our site
January 2, 2011
You may have noticed a few changes at our site in the last week or so. It appears that these happen most when the pastor's sons are home for Christmas and can help him tinker!
We'd like to point out our recent changes to help you understand them better.
In the past, we have used the upper right section of our site for the 'blog' updates. Here we have been giving the sermon summaries and occasional announcements. This was the primary place for finding recent sermons when we started the site. We also had a system of indexing sermons by category something that appears in the menu bar above.
Last year, we added the Sermon Browser plug-in which is accessed by the "Our Sermons" menu item. Sometimes we would delay posting a sermon summary, even though the sermon itself was posted in the Sermon Browser. The Sermon Browser makes updating our sermons very easy, but it wasn't as easy to find as we would like it to be.
So we have divided our 'upper right' section to give you a feed directly from Sermon Browser of our Recent Sermons as they come on line and links to our Recent Blog Posts so that we can pass along announcements and devotional writing. We'd like to make the 'blog' section of our site a more regular feature than in the past to make our site even more helpful for you. We plan to simplify our categories above to make navigation of our site a little simpler and reduce the clutter of our menus.
Finally, we have added a Facebook page for our church. We aren't sure that everyone should be on Facebook, but it is very widely used and can be a way for people to become aware of our doings at church, especially friends of our church people who wouldn't normally look at a church website. So you will see a button on our Home Page to 'Find us on Facebook' and links in our menu bar to our Facebook page and to our RSS feeds for our sermons and our blog posts.
That wraps up the changes for this year. We are sure things will keep on changing as time goes on!
~ Pastor Don
poor boy off the farm
October 23, 2010
My Tribute to My Dad
A few years ago, my dad began writing his memoirs. His title was "Poor Boy off the Farm". It reflects the reality of his life story and something of his insecurities as he battled honorably through life. He was far from 'poor' in my mind, though he began life in humble circumstances.
Our New Look
September 13, 2009
Here is a photo of our church building. It was taken about 3 pm, Sept 12, 2009 just after we finished the process of repainting. The process took us four weeks, many man-hours of volunteer labour, and a great deal of persistence on the part of our church folks. May the effort be rewarded with not only compliments from our neighbours (which we have received) but by opportunities for preaching the gospel to unbelieving hearts.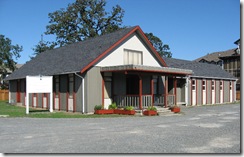 By the way, here is a 'before' pic: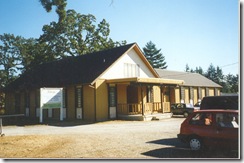 We think the new look is a big improvement. We'll be updating our site banner soon.
Thru the Bible DVD available
April 13, 2009
We are pleased to announce the availability of our Thru the Bible DVD, an audio and text archive of our church's chronological study of the Bible conducted from August 2005 to April 2007. Further details may be found here.
Creation Science Seminar – Saturday, March 7, 10 AM & 11:30 AM
March 3, 2009
We'd like to announce a special meeting for this coming Saturday at Grace Baptist Church of Victoria. Dr. Emil Silvestru of Creation Ministries International will be with us for two sessions.
Creation vs. Evolution is a long-standing debate. Some may think the debate is settled in favour of evolution, but the truth is that many credible scientists hold that the Bible's teaching of a six-day creation is at least compatible with scientific evidence.
Our speaker for this event is one thoroughly trained as a geologist who became a Christian and subsequently a believer in the literal creation record of the Bible following his conversion. His story is quite interesting and worth at least your giving him a hearing. Here is his 'bio' from the CMI website:
Dr Silvestru earned his Ph.D in geology at the 'Babes-Bolyai' University in Cluj, Romania (where he has worked as an associate professor), in karst sedimentology including caves. (Karst is a term which initially referred to barren regions of mostly limestone and dolomite, noted for spectacular and distinctive landforms, and with substantial underground drainage features — caves, underground rivers, etc. It has come to refer more to the entire geosystem, above and below ground.)

~

A world authority on the geology of caves, he has published 41 scientific papers (see here), written one book (The Cave Book—see here) and co-authored two books. He was, until recently, the head scientist at the world's first Speleological Institute (speleology = the study of caves) in Cluj. Since 1997 he has been a full-time researcher and speaker with CMI.

~

His areas of expertise include: Sedimentology of clastic deposits, stratigraphy of limestone terranes, general geology, karst genesis and functioning, cave climate and glaciology, show-cave assessment & designing, ore prospecting and exploration (surface and mining).

~

After becoming a Christian he quickly realized that the 'millions of years' interpretation, so common in geology, was not compatible with Genesis. 'Once I became a Christian,' Emil says, 'I knew I had to "tune up" my scientific knowledge with the Scriptures.'

~

'Although philosophically and ethically I accepted a literal Genesis from my conversion, at first I was unable to match it with my "technical" side.'

~

E-mail discussions with qualified creationist geologists, creationist books, Creation magazine and especially the Journal of Creation (formerly TJ) helped him realise what he calls two 'essential things':
Given exceptional conditions (e.g. the Genesis Flood) geological processes that take an extremely long time today can be unimaginably accelerated.

The Genesis Flood was global, not regional.
'These factors were immensely important in my conversion and my Christian life. I am now convinced of six-day, literal, recent, Genesis creation. That doesn't mean that there are not still some unanswered problems, but researching such issues is what being a scientist is all about.'

~

He has over 30 years experience in climbing and spelunking, educating many young spelunkers and mountain climbing devotees as well as participating in mountain and cave rescue operations.

~

In January 2002 he immigrated to Canada from Romania with his wife and two daughters. In addition to doing research and writing for CMI, he now also on staff at CMI Canada as a Seminar Lecturer, and has written a number of articles for the Journal of Creation, Creation magazine and this website, and produced several DVDs.
Dr. Silvestru's first topic will be Genesis, the Gospel, and the Creation/Evolution Issue (10 AM). The second topic will be The Darwin Delusion (11:30 AM). We strongly encourage you to attend and bring your questions!
We are located at 2731 Matson Rd, at the end of the Ruth King School playing fields. Please see our map page for further directions.
~ Pastor Don