How to find us
We are located at 2731 Matson Rd, Victoria, BC V9B 4M5
Please Note: Google Maps locates us about half way down the block from our actual location. You will be able to see the church from there, but will not be quite there yet!
Also note that in a GPS you may have to find us in Langford, BC. Our mailing address is Victoria, but our physical location is in the municipality of Langford. The internet has made some things more confusing!
From the ferry
From up-island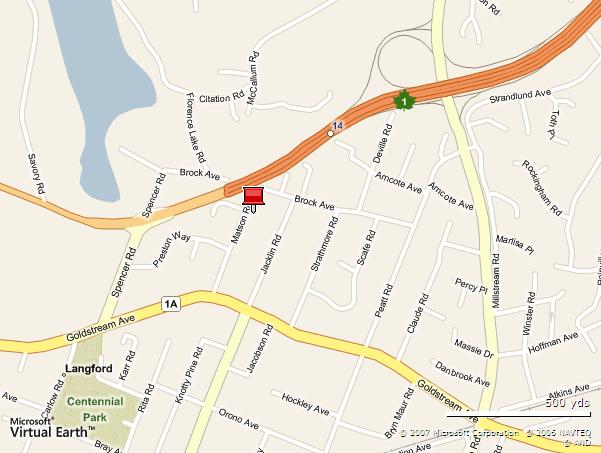 When you get off the ferry, you will be traveling south on Hwy 17 to Victoria. You will travel about 20-25 minutes, then you will come to an exit called McKenzie Avenue.

Take McKenzie Avenue to the Right (West). I think there are signs there that also say "To Hwy 1"

McKenzie will intersect Hwy 1 (Trans-Canada) after about a mile and a half. Turn RIGHT on Hwy 1.

On Hwy 1, watch for the Veterans Memorial Parkway exit. You will go under the overpass and loop around to head back over the highway. Take this exit until you reach Goldstream Avenue (third set of lights).

Turn RIGHT at Goldstream. You will proceed through two more sets of lights. After the second set of lights, an elementary school, Ruth King Elementary will be on your right. At the end of the schoolyard (One Block), you will come to Matson Rd on your Right.

Turn RIGHT on Matson. Our church building is at the far end of the schoolyard at 2731 Matson Rd.
From Nanaimo, you will be traveling south on Hwy 1, the Trans-Canada Hwy. Just after Mill Bay and just before you arrive in Victoria, you will travel over a high hill called the Malahat.

At the bottom of the Malahat, you will come out of Goldstream Canyon and be coming to the first Victoria exits.

The first light you come to will be Spencer Road. Turn RIGHT here.

Spencer comes to a T intersection at Goldstream Ave. Turn LEFT on Goldstream.'

Our church is the first LEFT off Goldstream, Matson Rd. The church is on the RIGHT at the end of the block at 2731 Matson Rd, you can see it from Goldstream.
~~~
More Information
For more information about our ministry, you may contact us by e-mailing Pastor Don. For contact by regular mail or telephone please see our Contact Us page.